Principal's Message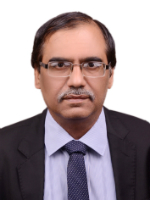 Dear Students,
Welcome to Bharati Vidyapeeth Institute of Technology, a premier Institute that has been continuously graded "A" by Maharashtra State Board of Technical Education. With the objective of bringing 'Social Transformation through Dynamic Education', it has been our perpetual earnest endeavour to provide quality education to our students and groom them for their promising future.
Our institute has an excellent infrastructure with well-equipped laboratories. Our highly experienced and dedicated staff thrive hard to provide very good theoretical knowledge and practical motor skills to the students. In addition to curricular activities we try to keep our students abreast with the latest Industrial developments through Industrial visits, Industrial trainings, Expert lectures etc. The students of this Institute excel in State and National level co- curricular and sports activities.
We have a registered Alumni Association with 6341 members who have carved a niche for themselves in the society. My best wishes for your stint at this Institute where you can pave your path to success and bring laurels to the college.
Prof. P.N. Tandon,
Principal